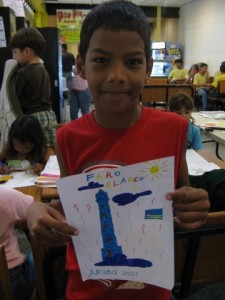 E significacion di e pintura di bo yiu…
Un storia saca for di bida real…
'Yen di orguyo e criatura ta bin serca su mayornan, cu ta druk y ocupa cu su cosnan di tur dia. 'Mami, papi, mira un cos bunita cu mi a pinta pa bo…" Den su drukte e mayornan ta tira un bista riba e bladchi, pero no ta mira di berdad… "Hopi bunita, mas oro mi ta mir'e un poco miho. Mi ta hopi ocupa awor…"  Yen di tristesa e mucha ta bira cana bay… Aunke e mayornan den nan drukte di bida no a ripara…e mucha a sinti e falta di atencion… un falta di atencion cu te hasta den su pintura, tabata hinca…
Un pintura di un mucha ta mas cu un combinacion di colornan. Pa un persona cu ta entrena pa analisa un pintura e ta un refleho di e forma con e mucha ta experencia e mundo cu e ta biba aden.
Bo por saca afo con e mucha ta na e momento ey…su emocionnan, su stress y guia e mucha y mayornan cu tips den e educacion di nan yiu.
Mucha??? Stress???
Si, aunke no semper nos ta realisa esaki. Pero nos bida awendia ta hopi yena cu actividadnan, yena cu desorden. Nos ta biba hopi ocupa y consecuentemente…nos yiunan tambe… Tin hopi actividad den tempo liber pa mucha hasi y mayornan kier pa nan yiunan siña hopi cos… nan ta bay les di musica, les di deporte, nan ta bay cresh of centro di cuido… tur esaki cu e miho intencion…
Pero…e mucha no tin momentonan di trankilidad hopi biaha. No tin ambiente di cas, contacto entre e famia mes… Y hopi biaha nos no ta realisa esaki mes, pasobra e forma di biba aki ya a bira un custumber, un patroonchi di bida. Cu tur bon intencion, pero no semper e ta e miho cos pa un mucha.
Un atardi di trankilidad…
Ta hopi importante pa crea momentonan di trankilidad pa nos yiunan. Loke como mayor nos por hasi ta pa organisa atardinan di pintamento pa e muchanan. Un atardi di trankilidad, completamente dedica na e muchanan. Analisis di e  pinturanan di un mucha ta hiba  nos pa haja sa na un forma directo loke e mucha ta biba y ta sinti riba un nivel emocional.
E ambiente cu ta rondona e mucha ta refleha den e estado di animo di e mucha.
Un mucha cu ta rondona pa trankilidad, disciplina duna cu amor ta refleha e trankilidad aki den su pintura, den e movecionnan cu e ta pinta cun'e.
E stress cu muchanan ta biba aden tambe ta refleha den e pintura. Den e liñanan, den e escogencia di e colornan cu ta refleha agresividad of malesa.
E deseonan y necesidad di e mucha na proteccion y amor cu ta refleha den e color blauw.
Tips pa mayornan:
Realisa cu muchanan mester di momentonan di trankilidad den nan bida diario. No hinca nan den mucho cos pareu. Na lugar di hinca nan den 5 diferente actividad, laga nan scohe 2.
Sosiego, drumi suficiente ora anochi ta hopi importante. Laga un mucha drumi na tempo. Prepara e mucha pa bay drumi, paga television. Lesa cu e mucha, e ta un di e cosnan mas dushi cu bo por hasi cu bo yiu.
Pinta cu bo yiu. Hasi obra di man cu bo yiu. E ta duna bo yiu trankilidad, pero abo tambe.  E ta duna bo yiu energia y abo tambe. E ta un actividad simpel y barata pa hasi. Pero, e ta un muestra y momento grandi di amor entre un mayor y su yiu. Un di e cosnan inpagabel den bida…