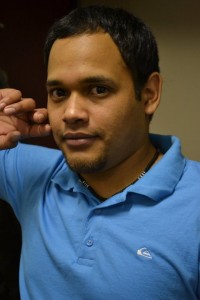 Bo ta biba of laga di biba? Asina hopi ta laga sa y asina tin hopi ta gusta menciona. Pero kiko en realidad ta e berdad su tras. Bo ta rechasa bida pa acepta morto, o vice versa, rechasa morto pa biba. Hopi di nos grandinan ta bisa; "Ay Dios, ta mihor bo yude of tume". Y esaki naturalmente ta un insulto, paso e equis persona ki no ta bay ni dilanti, ni patras. Of tambe e por ta pasando den un situacion penoso, cual e no por saca su curpa for di dje.
Biba of laga di biba? Biba pa awe, biba pa mayan? Asina cada ken ta scohe nan mesun credo, pa adapta nan bida diario na dje. Filosofonan y sabionan lo bisa cu algun ta biba liher pa muri jong, otro lo bisa, Mens sana en corpore sano, pa expresa nan ideologia y nan logronan. Pero asina mes, cada ken ta carga nan cruz, asina mes cu nan ta pagano, paso nan sa cu sin esfuerso, no tin mayan. Castigo corporal, mente inhunda cu informacion, curpa no tin sosiego, pero asina mes, no tin paracion. Mi tin di biba y sigi biba y biba bay. Mi tin di come, bebe y drumi bay. Manera awe, sigur lo tin un mayan. Mi hogar ta mi forsa y mi cuminda ta sagrado.
Mi oracion di anochi, ta mi vos, mi mirada y mi guia. Mi man extendi ta pa yuda otro, asisti na sacrificionan y duna tur loke mi por pa yuda mi prohimonan. Egoismo sigur lo ta mi caida.
Biba of laga di biba? Un bida, un caminda, un alma. Abo lo no ponemi sosega, pero esun cu ya caba a aceptami den su brasa. Cerca dje mi ta encontra amor, pas, divinidad y sobre todo mi mente semper lo ta relaja. Mi bida den bo man, no tin mucho balor. Den mi propio man ta conta solamente Memento mori y loke mi ta bay laga atras. For di antanyo nos ta existi caba, un creation perfecto, cual ta hiba nos na un caminda derecho. Pero tur locual nos ta encontrando aki, nada mas no ta puro, ni sikiera e fruta di e mata mas precioso. Acaso no ta e prome fruta mes a pone nos den un situacion penoso.
Biba of laga di biba? Mi a supla bida den bo curpa, un aliento cu ta contene tur e elementonan di Gaia. Tuma esaki como un Memento vivire, paso e ta contene tur locual ta wordo encontra entre cielo y tera y ta keda na bo pa engrandece y no enlokese. Pa siglonan caba nos sa kiko nos ta hasi kinan, pero nos no kier realisa, pero al contrario, nos kier sigi busca un contesta complica cu lo keda bruha nos dia pa dia mas. Ancianonan ta di acuerdo cu nan wowo por ya caba wordo sera sin mira atras. Mucho remarke no tin di duna mas solamente cu Mortui Vivos Docent y pa pone bon atencion. Un bida biba den e caminda di claridad a dunanan e forsa pa cria nan mes y esunnan mas stima. Mihor ehempel un no por sigi.
Biba of laga di biba? Ta kiko mas bo kier sa, pa sigi bo caminda felis y no esun frustra. Demasiado palabra pa describi e situacion lo crea confusion y apesar di tur cos, nous ne cherche le vrai que pour faire le bien.
Autor : Aldrick Figaroa ©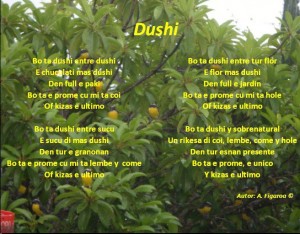 Aldrick Figaroa tin un Facebook page dedica pa poema bou di nomber di Rincon di Poesia.
"Though the favorites of the gods die young, they also live eternally in the company of gods."
Friedrich Nietzsche, "The Birth of Tragedy"

Loading ...