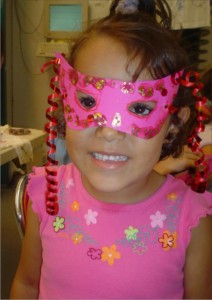 Cu poco cos muchanan por traha cosnan masha bunita… esaki mi a sinja dor di traha hopi anja cu mucha. Loke mucha kier ta atencion y tempo di e hendenan cu ta stima nan. Awor si nos combina esaki cu un tiki material cu hopi biaha nos tur den cas, nan mes por traha nan 'Obra creativo di carnaval'. Y despues hunga cu nan ruman of amigonan di cas. Esaki por ta material manera karton, papel di color, lijm, stift of potlood, slinger of sinta cu hopi biaha nos ta kita di regalo y warda. Loke mucha ta haja dushi pa traha cu n'e tambe ta glitter, boton, figura di foam y steenchi. Bo por cumpra esakinan hopi barata na diferente lugar.
Okay, awo e obra: bo por laga e mucha corta y decora su mesun mascarda y/of t-shirt na su gusto.
Si e mucha ta hopi chiquito, bo ta corta e mascarada p'e. Lag'e corta e t-shirt na su gusto, cu franja of kita e manga, por ehempel. Si bo invita mas amigo di su scol of bario, nan por pasa un dushi atardi cu un tiki juice y buscuchi. Nan por jump cu nan bunita outfit rond di cas… Encurasha bo jiu pa ta creativo. Esaki lo jud'e den hopi otro forma y situacion den su bida. Na prome lugur e ta bon pa e forma con e ta aprecia y stima su mes. Y si bo tin e tempo, sinta cu n'e tanten e ta bezig. Experencia a sinja mi tambe cu hopi majornan ta encanta traha obra di man hunto cu nan jiu. E ta juda lubida e bida druk di tur dia y pon'e den e flow creativo di bida.  Pasa dushi y stima bo yiu…. asina abo ta stimul'e pa stima bida y … su mes!

Loading ...