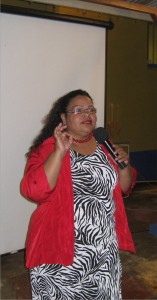 Belquis Moreu a hiba nos un rato den futuro durante e anochi di presentacion di Comprondiendo Bida na Biblioteca Nacional… Un futuro unda probablemente nos ta biba pa e cos y no pa ken nos por ta como ser humano. Pa nos tin un miho mundo majan ta importante pa nos realisa cu nos mester uni man y no tira culpa riba otro. Ta fout di gobierno, ta fout di maestronan, ta fout di majornan, propaganda, comercio. No, pa crea hunto un miho majan mester realisa cu e tarea ta di nos tur. Ta nos responsabilidad pa laga atras un miho mundo cu nos a topa y pesey ta importante pa tur partido pone nanishi den mesun direccion y mira con nos por jega na e solucion mas miho den un mundo y pais unda tin menos medio na e momento aki, pero mes tanto hamber na calor, sosten y amor di hende.
Belquis a capta curason di tur presenta ora e la duna un bista di nos futuro, si nos no tuma accion awe.

Cuanto di nos ta pensa riba 'Kico ta mi poder di awe y su consecuencia riba futuro di e muchanan cu ta sigi nos?' Abo sa pensa 'pakico mi ta na mundo?' Belquis a puntra e publico presente. 'Bo sa cu nos cada un tin un mishon unico aki na mundo?'. Y toch nos ta mira cu nos mishon spiritual ta haja menos atencion cu nos hamber material. Nos relacion entre major y yiu ta cambia pa nos relacion cu nos computer y nos amigonan 'virtual' cu nunca nos a jega di topa. Nos forsa mental ta ser cambia pa nos forsa virtual.
Cuanto mucha ta drumi cu e cellular bou cusinchi pasobra bo no sa, si direpente den madruga ta drenta un 'ping' interesante. Ora bay banja, tambe tin cu bay cun'e, paso bo no sa si 'net' na e momento aki tambe por drenta un ping, sms of jamada interesante of imporante. Y poco poco nos bida ta bira uno hopi solitario y sin meta. Y mirando un futuro bashi asina nos por cuminsa pensa con nos por jena 'mi poder di awe' … pa por laga atras un miho majan.
Como hende nos tin hopi poder mental. Nos por usa e poder aki pa construi y pa destrui. Belquis a duna un demonstracion con den un famia nos pensamento pa cu otro por fortalese nos of kibra nos. Mescos cu nos no por mira biento, pero si por sinti su forsa, asina pensamento tambe tin poder riba nos bida. Si nos kier logra un miho majan hunto…nos tin cu drenta bay paden di nos curason… awe. Nos curason ta mas cu un musculo cu ta laga nos sanger core, e ta tambe e lugar unda nos emocionnan ta nace. Laga nos hunto crea bunita emocionnan….majan merece esaki…