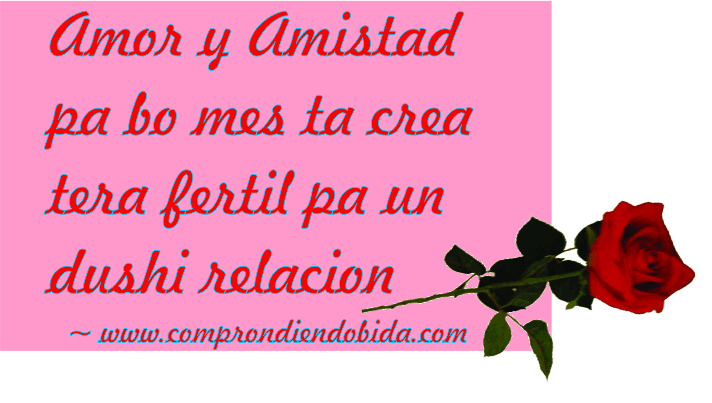 Felicidad tin hopi forma y hopi nomber.
Y nos tur ta en busca di felicidad den un forma of otro.
Hopi hende ta busc'e den un pareha.
Otro ta busc'e den trabou of den salimento.
Sabionan ta conseha pa nos no busc'e eyfo.
Tampoco busca e perfeccion cu bo ta busca den un otro.
Of den otro cos.
Bida ta perfectamente imperfecto.
Pesaki nos ta aki den mundo pa sinja?
Pa busca e perfeccion, na prome lugar den nos mes?
Busca e spiel di bo alma.
E honestidad den bo mes.
Unda bo por mehora of coregi bo mes?
Abo sa! Un otro no mester bisa bo!
Tribi di wak bo debilidadnan y traha na nan.
Eynan bo ta nutri felicidad, trankilidad y calidad di bo bida.
Amor y Amistad pa bo mes ta crea tera fertil pa un dushi relacion.
E ta start ey nan, den bo curason.
Pasa un dushi dia di Amor y Amistad.