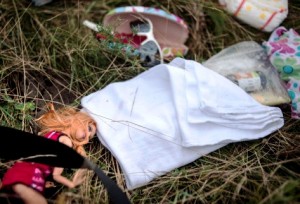 'Nos no a hereda e Mundo aki di nos ancestronan. Nos a fi'e di nos Jiunan.'  ~ Proverbio Indjan
Nos por mira nan wowonan chikito spanta ora nos mira noticia di guera, na television y den corant. Y wak bon, hopi biaha un mucha lo busca su peluche pa bay cu n'e. Ora e ta bay drumi, sali, biaha y si, te hasta ora e ta huy di guera of di violencia. 'Stranjo, no?', un adulto lo pensa. No, pasobra te hasta den un mundo marca pa violencia, muchanan semper lo sigi hunga tur caminda.
Den e drama di e avion di Malaysia Airlines e potretnan cu mas a toca e curason di hende ta esunnan di e buki di un mucha cu tabata abordo, e peluchonan y pa no lubida e potret di e soldad cu e macaco.
No ta stranjo, pasobra maske nos no ta realisa, majoria sentimento di dolor y alegria den nos bida tin nan rais den nos anjanan di mucha chikito. E potret di e mucha y su pelucho un caminda den nos memoria ta hiba nos bek na e mucha den nos mes y un mundo inocente cu casi ya no ta existi.
Y esaki podise a bira pio cu e popularidad di e social media y e libertad di expreshon cu facilmente por transforma den libertinaje di expreshonnan emocional.  Ora mi  wak riba Facebook, mi ta haja e impreshon cu tin hopi hende a bira experto den tur materia. Ta parse cu hende ta competi pa ken tin rason of E berdad, lubidando cu E Berdad ta haja un cara diferente den cada opinion personal. Ora mi sinti  cu hende ta competi pa ken ta haja mas atencion, esaki  ta pone mi  bira keto di paden, pasobra mi no kier ta den e ratrace ey. Mi ta sinti cu cambio den e forma cu nos ta wak bida lo bin solamente ora nos por jega na e puresa den nos curason. Anto aki e criaturanan chikito den mundo y cu nos tambe un dia tabata, ta hunga un rol atrobe.  Solamente mirando bida for di e wowonan di un mucha, nos por bay bek na e estado di conciencia cu ta puro y no por ser cumpra ni corumpi. Y te na e momento aki, nos ta cla y prepara pa hasi nos trabou como adulto.
Mi stima bida y mi lo kier laga un mundo pa mi yiunan y mi nietonan atras cu ta miho cu loke mi a haja. Y mi sa cu den curason di cada ser humano tin e deseo di ta felis y hasi otro felis. Lastima cu materialismo y hamber pa poder  a cambia hopi  hende nan prioridadnan.
Ami semper  lo kier mantene mi vishon di nos mundo como un Shangri La of Utopia, pasobra por. E ta rekeri conciencia y e lidernan adecuado cu no tin prijs riba nan cabes. Pa mi e ta bay pa hende por biba den respet pa otro y pa tin lugar pa cada hende. Y e simbolo ta e mucha cu ta e guardian di nos consenshi.
Ingrid Werleman, juli 2014