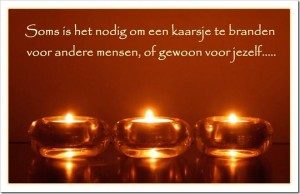 Tin ora ta bunita pa nos djis hasi algo espontaneo. Los di tur ritual y tur reglanan di bida, hasi algo cu ta sali di bo curason. Awe mi a topa e potret aki riba Facebook y ela capta mi atencion. Pakico no, djis sende un bela awe. Dedic'e na e prome hende of causa cu bin den bo mente. E por ta algo leuk, manera 'danki pa un famia cu a gradua of a bay over'. 'Danki pa tin hendenan rond cu ta stima mi', 'Danki pa mi pan di cada dia', 'Danki pa e alegria den mi bida'. Of tambe pa sosten di un hende cu tin mester of pa bo mes. Of pa recorda cu un hende cu no ta cu bo mas. Of pa bo pais Aruba. Pa inspiracion.
Bo a mira den un rato cu tin asina hopi motibo pa sende un bela!
Abo ta sende un bela awe?
Of awe y majan y otro majan… Tin asina hopi cos pa nos ta agradecido y toch nos ta lubida hopi biaha den nos rush di bida. Keda keto un rato. Stttt. Scucha e bos di bo curason.
Ingrid Werleman