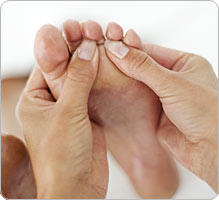 Mas of menos 4000 aña pasa, culturanan antiguo manera e Egipcio- y Chinesnan, tabata usa Reflexologia manera un berdadero disciplina di terapia cu a pasa di generacion pa generacion. E reflexologonan antiguo ta hendenan cu poco poco a descubri e existencia di puntonan specifico atraves di cua por stimula e funcionamento di bo organo, kliernan  y otro partinan di bo curpa.
Reflexologia ta pone presion leve cu e duim den cierto zona, pa calma malesa y tension. E stimulacion ta yuda pa calma dolor, ta yuda pa saca stofnan toxico di nos curpa y ta preveni cierto malesa y problema di salud cu ta stroba nos di gosa di salud total. Reflexologia ta yuda nos haja e balance natural di energia di nos curpa bek. Reflexologia ta yuda henter bo curpa funciona na un forma harmonioso sin cu necesariamente bo mester usa remedi. Reflexologia di pia ta traha cu e zonanan di tur e organonan di e curpa cu ta localisa bou di e planta di nos pia. Esaki ta e sistema mas usa.
Ta existi tambe reflexologia di man, pa cara, dede y huña, pa barica y cuero. Basicamente ta usa e mesun tecnica pa tur e partinan di e curpa aki, pero den e diferente parti di e curpa.
Beneficionan di Reflexologia:
Ta baha tension.
Ta mehora circulacion tanto di sanger como e circulacion energetico.
Ta yuda mehora e funcion di e diferente organo di e curpa, sin efecto secundario.
E frecuencia di tratamento ta ser determina den acuerdo cu e pacient. Den casonan di urgencia ta recomenda un terapia cada 48 ora pa asina laga e stofnan toxico cu ta bin liber dor di e masashi sali di e curpa. Den casonan cronico por cuminsa cu dos sesion semanal y despues di dos siman, un bes pa siman.
Pa hendenan den situacion special of di cierto edad ta importante pa nan consulta cu nan dokter si reflexologia ta adecuado pa nan. Ta pensa e ora riba personanan hopi anciano, hende muhe na estado, pacientnan cu mester bay opera of cu problema cu curason, diabeticonan, baby of pacientnan cu problema di circulacion.