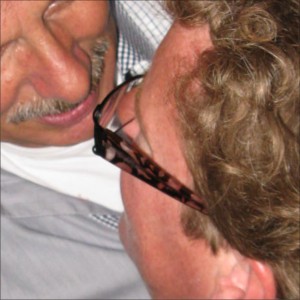 E prome sentimento di amor ta stimula 12 diferente parti di bo celebro pa cuminsa release quimica cu ta ponebo 'sinti agradable'. Esakinan ta entre otro dopamine, oxytocine y adrenaline. Esaki segun un estudio hasi pa Syracuse University na New York.
Por midi namoramento den e celebro di hende. E por nace den un seconde si e chemistry instantaneo cu ta causa 'amor a primera bista' t'ey entre e pareha. Esaki segun estudionan nobo riba funcionamento di nos celebro relaciona cu nos emocionnan.
Asina ta dura un promedio di 0,2 seconde pa por detecta y midi e stofnan den nos celebro cu ta habri e caminda pa nos por enamora. Un total di 12 diferente stof den nos celebro ta ocashona e  sentimento aki.

Amor na prome bista ta posibel, pues…
Cientificonan di Universidad di West Virginia ta scirbi esaki den e Journal of Sexual Medicine. Nan a jega na e conclucionnan aki a base di investigacionnan cientifico hasi cu aparatonan cu ta scan e celebro.
'Esaki ta confirma cu amor tin un base cientifico', asina un di e investigadornan Stephanie Ortigue ta declara den e corant The Daily Telegraph.
Pero ainda nan ta pendiente di e pregunta 'bo ta namora cu bo celebro of cu bo curason?'
For di e investigacion ta sali afo cu diferente tipo di amor tin tambe un diferente base den e celebro.
Asina a descubri cu e amor entre un mama y su yiu ta ser maneha dor di e parti meimei di e celebro. Namoramento di un pareha ta ser ocasiona dor di e parti den e celebro, unda ta produci dopamine.
Finalmente Ortigue ta declara cu e ta pensa cu 'Na prome lugar bo ta enamora cu bo celebro. Pero, e ta bisa, e curason sigur tin parti den e proceso aki. Pasobra e concepto completo di amor ta un entercambio entre e celebro y e curason…
Interesante y leuk pa sa, no?