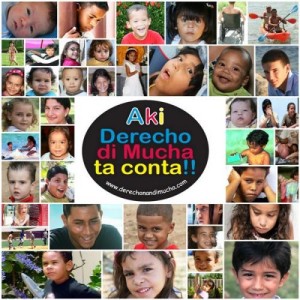 Si nos djis pensa cu un mucha ta den mundo pa biba un bida felis, sigur y unda e por crese den un forma harmonioso y creativo… anto nos por puntra nos mes… cuanto mucha tin e honor di lanta asina… den e mundo cu nos ta bibando aden.
Rond mundo muchanan ta confrontando situacionnan unda tin guera… Rond mundo no tin 'tempo' pa e mucha por lanta den e harmonia necesario… majornan ta traha demasiado ora…
Rond mundo muchanan ta demasiado gordo, pa motibo di mal alimentacion y custumbernan di bida…
Rond di mundo computer y tv ta e miho amigo di e muchanan…
Den hopi pais rond di mundo tin issuenan di abuso sexual, fisico of verbal cu ta concentra rond di mucha. Esaki den un era unda informacion ta na punta di nos dede…
Rond mundo ainda no ta kere e mucha den hopi caso ora e ta purba conta di su dolornan di bida…mucha, stop di exagera…
Rond mundo ainda ta jama un mucha pa 'bobo, 'bo no ta sirbi pa nada', 'bo lo no bira nada den bida', 'miho nunca bo a nace'…
Rond mundo no ta sinja un mucha di chikito pa desaroya su talentonan creativo… pa desaroya un amor propio sano…
Rond mundo ainda ta hopi dificil pa e mucha por papia riba e echo cu e la worde abusa den un of otro forma.
Rond mundo ainda ta forma mas y mas comicionnan cu ta traha tratadonan bunita cu no ta ser ehecuta nunca, pasobra no tin placa pa projectonan social…
Rond mundo hende y comicionnan ta bringa pa e honor ken a hasi of laga di hasi of ken ta experto of ken no…
Na Aruba tambe…
Pesey mi ta gusta e quote di Unicef … 'Nos no por warda riba majan… e futuro di e muchanan ta AWE'…
Pabien na tur muchanan riba nan dia y forsa na tur adulto pa hasi nan posibel… y duna cada mucha un bos y un lugar unda pas y amor limpi y genuino ta reina…
Na Aruba tambe…
Cu tur sinceridad…Ingrid Werleman