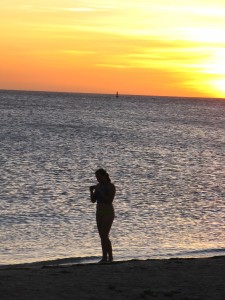 'Cambio' ta un di e poco cosnan sigur den nos bida, pero parse cu e cos mas dificil den bida ta pa laga los di nos custumbernan bieuw.   Si nos analisa nos custumbernan di come por ehempel, come tres of cuater biaha pa dia, esakinan ta custumbernan di come cu ta data for di final di siglo pasa, tempo cu mayoria di hende tabata traha den agricultura of trabaonan industrial, trabaonan duro cu ta exigi esfuersonan fisico pisa. Awendia e situacion a bolter y mas tanto hende ta traha den oficina, ta come mes hopi, riba dje cuminda menos saludabel, tin poco movecion, anto nos ta puntra nos mes, dicon tin asina hopi hende cu sobrepeso ?
Nos custumber di cria nos yiunan, di comunica cu otro ta otro ehempel. Nos ta sinja nos yiunan pa no bebe, no huma, pero bo mes ta huma y bebe dilanti di nan ?
Podise pesey, tanto campanja pa 'bisa no na droga y alcohol' no ta funciona ?  Pero, tin otro cosnan cu nos tur a nace cun'e, sin excepcion, nos tur a nace cu e cualidadnan divino, nos tur sa kico ta nifica di ta un bon hende, esaki ta e regalonan di Dios cu nos tur a ricibi dia nos a nace y toch a lo largo di bida tin di nos a laga e cualidadnan un banda pa biba un bida mas mundano.
Bibando den un mundo cu a laga los nos coneccion divino nos por wak cu e problemanan social y personal a crese. E cantidad di famianan kibra y di un solo mayor a trese un presion tremendo den e famianan aki den un comunidad unda  e relacionnan entre famia y becindad a bira mas individualista, hopi di nos ni conoce nos bisinja mes.
Hopi bes nos ta nos so, cu tur nos problemanan, grandi of chiquito. Nos ta bibando den un mundo unda violencia a crese, riba caya, den nos casnan, abuso di mucha t'ey keto bay, droga ta un monster cu ta un amenasa pa nos yiunan. Cosnan cu nos niun kier pa existi den nos bida y toch dicon, nos no ta cambi'e ?
Tanten cu nos por, si nos kier, cada dia ta un dia nobo cu un sin fin di posibilidad, tambe pa cambio. Pero cambio ta nace, ora un deseo genuino nace di paden pa 'realmente' cambia di curason, di e profundidad di nos alma. Cambio inicia di nos mente lo pone nos bay hopi curso, lesa hopi buki, sin cu nos bida mes lo cambia, nos ta cumula 'conocemento'. Cambio di paden ta trese accion, nos ta gana 'sabiduria' y sinja un poco mas con 'pa compronde bida'. Nos ta desea bo hopi cambio pa miho den bi bida…