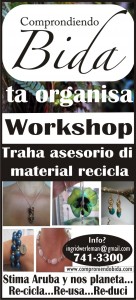 E filosofo Britanico John Gray (63) ta bisa den su buki Straw Dogs, cu e ser humano ta considera su mes 'Un Master of the Universe'. Pero cu un dia e lo experencia cu e no ta mucho significante den e cosmos mas grandi. Gray ta bisa cu e planeta lo busca su propio balansa natural bek pa e populacion demasiado grandi riba planeta Tera sin tene cuenta cu e ser humano. E ta scirbi cu tabatin mas periodo cu e planeta a bira demasiado cayente y naturalesa a busca semper su balansa bek. Segun Gray Apocalyps ta nifica literalmente 'fin di historia '. Gray ta bisa sin embargo cu historia semper lo sigi, cu guera, problema racial, crisis economico y ambiental…pero si e ta inclui e ser humano, esey ta un otro punto. Ta keda e pregunta si nos por sigi cu e nivel di desaroyo actual pa un 100 anja mas, pasobra e mundo dificilmente por sigi carga e sobre populacion di e planeta.
Pesey ora hende puntra pakico recicla, mi contesta lo ta pasobra e ta importante pa nos propio futuro. Si nos realisa cu den menos cu 100 anja e cantidad di hende na mundo a bira 3 biaha mas hopi. Si nos realisa cu cada un hende mester di un lugar pa e biba y lo kier mas tanto luho y bienestar posibel…

E ora ta importante pa puntra nos mes kico cada un di nos por hasi pa juda nos medio ambiente y evita pa nos planeta bira un dump grandi… pasobra nos kier lo mas nobo continuamente y no ta pensa kico ta pasa cu nos productonan cu nos no ta usa mas.
Hopi biaha nos ta pensa cu no ta importante pa hasi algo, pasobra e no ta nifica nada den e totalidad mas grandi… Pero podise si nos pensa cu e oceano grandi ta consisti di cada un gota di awa, anto e ora ta bunita pa pensa cu nos cada un ta un gota den e oceano di bida y cu nos cada un por hasi un diferencia… con chiquito cu nos accion por ta…
Pesey semper mi a stimula hende grandi y chiquito pa recicla na un forma creativo… E workshop traha bo propio asesorio ta un ehempel di esaki. E ta nifica un rato pa bo mes….un rato pa crea algo nobo. Un rato pa traha pa bo futuro generacionnan tambe tin un planeta sustenible pa biba aden…sin tanto desperdicio y tanto desaster natural… Di cada cos malo nos por sinja algo bon… Abo por ta net e diferencia cu e planeta mester… imaginabo cu nos tur actua pa logra esaki!!!