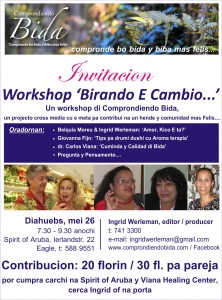 Diahuebs, mei 26 awo ta bay tuma lugar e workshop 'Birando e Cambio den Bida'.
unda Dr. Carlos Viana ta un di e facilitadornan. Despues di e anochi 'Pensando riba Bida' di e projecto 'Comprondiendo Bida' hopi hende a pidi pa organisa un actividad unda por profundisa mas riba e temanan cu a bin padilanti. Dr. Viana lo repasa cuminda y tur aspecto den bida di e ser humano y tambe tur e fase di edad y nan particularidad. Tin cambionan grandi cu a tuma lugar den ultimo decadanan den nos estilo di bida. E cantidad y sorto di cuminda disponibel a bira hopi mas. E forma di come 'moderno' ta nifica pa hopi hende cu e ta ocashona demasiado vet di curpa. Consecuencia por ta obesidad epidemico y mortal. Si nos considera cu un estudio a mustra cu na Aruba mas di 60% di poblacion ta demasiado gordo, esaki ta motibo pa preocupa. Dicon? Esaki ta nifica costo astronomico di AZV, dor cu e riesgo di salud cu ta subi.

Nos ta mira mucha cu ya tin diabetis y hopi mas hende cu malesa cronico. Mescos den otro pais nos ta mira e malesanan moderno manera obesidad, malesa imunologico, nos mente, depreshon, cancer, malesanan emocional cu tin di hasi cu nos balor propio, lasonan emocional, polemicanan social cu ta causa stress personal. Tambe tin hopi cos den nos cuminda y den materialnan di construccion cu ta causa intolerancia. Y nos a haja sa mas di e efecto di nos emocionnan riba nos organonan. Nos ta topa mas mucha cu problema di conducta, falta di concentracion. Nos tin mas distraccion y kico e ta nifica pa e forma y kico nos ta come y su efecto riba nos curpa? Tanten cu ta asina bunita pa un dia nos bisa cu nos bida ta jena cu alegria y cosnan cu ta hasi nos felis. Esaki no ta un mito, pero un realidad, una bes cu nos cuminsa mira e mesun cos na un otro forma. Ora nos ta realisa cu tur cos den bida ta escogencia, nos por scoge tambe pa salud y felicidad. Di eynan nos ta bira ehempel pa otro. Y asina nos ta jega cada dia mas cerca di un pais y mundo felis. Dr. Viana lo reparti sample di productonan cu ta hasi un diferencia den e forma cu nos ta come y anda cu nos salud y lo contesta pregunta di publico despues di su presentacion.
E workshop ta tuma lugar diahuebs, 26 mei, di 7.30 te 9.30 anochi. Pa cubri e gastonan ta pidi un contribucion chikito di 20 florin y pa pareja esaki ta 30 florin pa 2 persona. E workshop ta tuma lugar na den e bunita centro 'Spirit of Aruba', Ierlandstraat 22, Eagle. Tel. 588 9551.
Por cumpra carchi na Spirit of Aruba y Viana Healing Center of jama tel. 741 3300 pa reserva esun di bo, via ingridwerleman@gmail.com of via nos contact formulier.