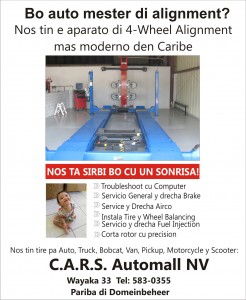 Tin ora den nos bida cu nos ta puntra nos mes ki direccion nos ta bayendo cu nos bida? Nos ta canando straight of nos ta zigzag y laga circumstancianan den nos bida determina e rumbo. Den e caso cu nos ta zigzag asina ta bon pa nos para keto y mira unda nos kier bay y kico ta e miho forma pa sigi padilanti.
Cambia rumbo hopi biaha ta un cos dificil, nos ta kere cu nos mes por hasi tur cos, pero tin ora nos mester di judansa mas professional. Y toch, hopi biaha nos tin miedo di busca judansa pasobra nos tin cu comparti cosnan di nos bida cu semper nos a tene scondi. Nos ta prefera di wak e foutnan di otro y no esunnan di nos mes.
Una bes nos tribi di busca judansa profesional nos ta realisa tin ora cu nos bida lo por a cambia pa hopi anja caba si nos a tuma un curashi mas prome y busca e judansa necesario.

Ricardo Wever di Cars Automall ta conta nos cu nos auto tin ora ta mescos cu nos bida. Nos ta pone nos bida y bida di otro hende na peliger, pasobra nos auto no ta bon alinea. Bo auto ta mes fiel na bo compara cu e cuido cu bo ta dun'e. Si bo auto ta hala banda drechi of robez coriendo riba un caminda flat bo auto mester wordo alinea. Bo por hasi un test chiquito pa confirma esaki. Core riba un caminda flat y straight y laga e stuur bay un rato y check si e auto ta hala robez of drechi. Na Cars Automall nan tin e aparato di wheel alignment mas moderno den Caribe.
Podise ta bon pa bo hasi e test di alignment cu bo bida tambe?
Pensa bo bon si esaki ta un bon momento pa alinea bo bida y auto na mesun momento. Bon idea? Hasi'e! Bo trankilidad den bida ta bal oro!