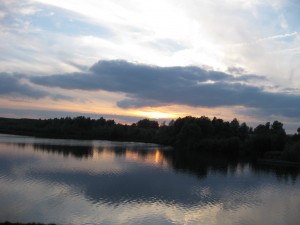 'Con mi mester medita?', asina mi sobrino a puntra mi… 'Mi kier sinja medita pa asina mi trese mas trankilidad den mi cabes. Mi ta pensa mucho hopi… continuamente. Mi a purba scucha musica suave, pero mi no por stop mi pensamentonan!'.
'Oei, esey mes ta e problema,' mi contesté. 'Hopi hende ta pensa cu nan mester stop nan pensamentonan ora nan ta medita. Pero e berdad ta cu nos pensamento nunca ta stop. Loke ta importante ta pa ta conciente cu bo ta pensa, acepté y lag'e los… awor bo ta creando espacio pa un poco mas trankilidad. Pensamento lo keda bin y bay y ta bon pa bo djis tin pas cu esaki'.

Tambe mi a splica mi sobrino cu cada hende tin un forma di meditacion cu ta pas miho cu nan. Pesey tin diferente tipo di meditacion.
Tin hende cu ta prefera di medita riba musica suave. Un otro persona ta prefera di medita riba silencio. Den esaki, corda cu silencio total no ta existi. Otro hende ta prefera di hasi meditacion riba guia. Esaki ta nifica cu un hende ta guia e meditacion sea via un cd, dvd of personalmente. Ami ta gusta usa musica 'theta' pa meditacion. E ta duna mi celebro un time out di pensamento. Pero, cana contemplando naturalesa, cana bandi lama, sinta den silencio riba un baranca of den mondi, tur esaki ta formanan di meditacion. Resa, wak leu, bay leu mientras bo ta hasi trabou di cas, laba tayo… Tur ta formanan di meditacion. Papia cu Dios, duné bo dolor, hasié bo preguntanan, papié di bo deseonan. Kico mas bunita cu esey.
Finalmente, mi ta kere cu un di e formanan mas bunita di meditacion ta papia cu bo mes, cu bo ser di ser. Bo ser interno ta un creador di milagro, ora bo ta kere den esaki.
Meditacion ta tambe e deseo di entrega bo mes na un situacion… entrega bo mes na e sonjo cu bo ta desea… e sonjo fisico of e sonjo meta fisico… Bida tin hopi caminda y tin hopi desviacion… pero na momento cu nos determina unda nos kier ta y unda nos kier bay… y nos ta tuma accion…. universo y divinidad ta conspira pa juda nos jega eynan… Unda abo kier jega? Awe, majan, otro anja… unda bo ta ora bo jega un edad respeta y ta mira atras riba bo bida? E momento aki bo ta determina awor dor di projecta padilanti den bo sonjonan di bida…meditacion ta un caminda… bo deseo pa realisa bo sonjonan di bida ta un otro caminda… Nan dos por bay hunto… creando trankilidad den bo bida… purbé!