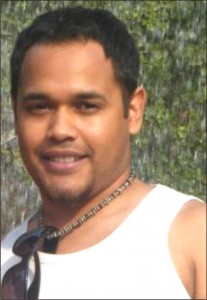 Autor: A. Figaroa ©
Pa Es cu ta kere den Dios, ningun explicacion ta necesario. Pa esnan cu no ta kere den Dios, ningun explicacion ta posible.
Autor: Desconoci (kizas ta Dios mes)
Mi ta marca bo number pa yamabo paso mi sa cu tur ora bo ta contesta pa scucha mi palabra. Bo number ta facil pa corda como cu mi ta yamabo tur dia, si no ta pa agradeci, ta pa yamabo danki, pidibo conseho of pidi forsa pa otro. E unico yamada cu mi tin hasi ta cu mi man y mi bos. For di mi frenta na mi pecho y schouder pa schouder: "Na nomber di Tata di Yui y di Spirito Santo, Amen. Y bo sa ken mi ta haya na linea pa conte tur cos …?

Mi pensamento di bida y biba ta draai rond di Dios y pa tur loke E ta para pe. E ta mi sosten, mi bon amigo, esun cu semper mi ta busca conseho na dje den temponan duro. Manera mi amiga Ingrid a bisa: "Mi imagen di Dios ta uno amoroso y yena cu compashon" y ta asina mi ta biba, den dicho imagen. Pero prome mi haya sosten di Dios, mi mester conoce e sosten den mi mes, prome cu mi kier ricibi loke mi ta spera di dje, ami mester entrega esaki na otro prome. Esta stima bo prohimo, mescos bo ta stima bo mes persona.
Mi Dios den mi bida diario ta basa riba conoce, compronde y yuda. Aunke en vano mi lucha pa hasi e mundo aki mihor, na final di dia, mi sa mi tin mi Dios pa consolami. Den mi sonjonan, den su cunucu berde mi ta drumi, esey ta su simpel promesa.
Cu Dios na mi lado, mi curason semper ta trankil, ami ta duna di mi banda, E ta duna di dje. Man den man nos ta cana e bida aki hunto.
Pa esnan cu nan Fe ta grandi den Dios sea pa medio di un secta religioso of den nan so na cas, un dia lo spera grandi. Pa esnan cu no ta kere, Dios ta bisti su piyama, pero E no ta drumi, semper E ta keda cu wowo riba nan, como cu un dia lo yega cu nan lo busce.
Autor: A. Figaroa ©