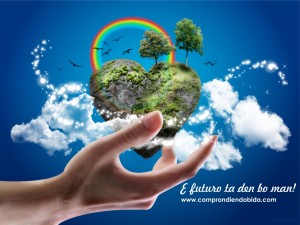 E futuro den bo man!
Tur dia mester ta 'Dia di Mama Tera', pasobra ta un planeta so nos tin te awo. Ora mi dal un niester duro na Aruba e por afecta e halanan di barbuleta cu ta saliendo di su cocoon? Ken sa con entreconecta bo ta cu net e barbuleta ey!
Importante den e reto pa laga un mundo atras unda nos yiunan y nan yiunan por tin un bon calidad di bida ta den nos man. Loke bo ta hasi of laga di hasi ta afecta bida den tur forma, grandi of chikito. No pensa si mi ta tira e cup di plastic ey den lama no ta hasi nada, ta un so e ta. Imagina bo cuanto hende ta pensa mescos cu bo!
Awe 2 link riba e website fabuloso cu asina tanto projecto creativo, www.pinterest.com
Gosa trahando den tera awe cu bo yiunan, susha bo man y sinti e tera, lab'e bek y traha cos leuk cu bo famia. Felis dia di…TERA!
http://www.pinterest.com/search/pins/?q=earth%20day%20art
http://www.tipjunkie.com/post/activities-for-earth-day/