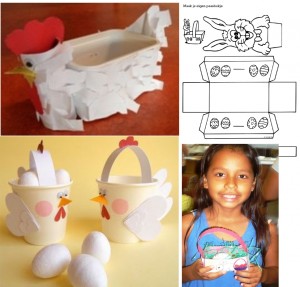 Den e dianan aki e muchanan di kleuter y scol basico ta na cas, tin vakantie. Joepie! Tin mucha ta bay campa cu nan famia. Leuk! Pero tin ora nan ta fastidia nan mes.
Pero esey no ta necesario, pasobra ta net den e dianan aki tin asina tanto cosnan leuk pa traha cu e tema di Pasco Grandi. Hopi famia ta organisa buscamento di webo pa dia di Pasco Grandi. Esaki ta net un bunita ocashon pa usa materialnan simpel pa traha cosnan bunita cu e muchanan jong. E no mester costa hopi placa, pero meste paga tino pa no benta e cahanan di webo, baki di manteca, cups di karton of cups di color of karton bieuw afo. Mester di potlood, stift of krijt y ehempelnan di internet. Wak riba e siguiente linknan of bay riba Google y busca obra di man pa Pasco Grandi den bo idioma favorito y dal bay y ser creativo cu e muchanan. Wak akinan con hopi cos tin cu bo por hasi pa laga e muchanan pasa un dushi vakantie.
No concentra solamente riba e cosnan di adulto, pero sa cu como adulto nos tin un rol importante den formacion di nos muchanan.  Den e dianan aki nos dilanti cultiva y brasa bo famia. Corda riba e esencia di Pasco Grandi y e ehempel di Cristo. Un ehempel di e amor di mas halto. Bendicion.
http://www.kleurplaten.nl/pasen-bouwplaten/paasbakje-maken–pasen–k-8899.html
http://www.pinterest.com/jufmargriet/pasen-knutselen/
Compila pa Ingrid Werleman