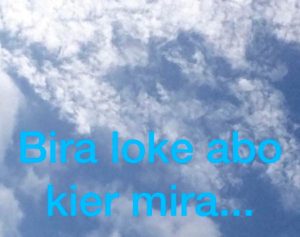 Tur cos ta cuminsa cu un pensamento.
Y hopi biaha e pensamento ta asina grandi y bunita cu nos ta haja miedo di papia of confia otro hende cu n'e. Inseguridad ta cuminsa drenta den nos y nos ta stop cu e posibel projecto.
…Miedo a tuma poder di nos… Ki lastima!
Enberdad, hopi biaha nos ta entrega nos poder na hende of situacion pafor di nos. Nos ta lubida nos sonjonan di mucha. Nos ta lubida nos poder individual di hasi cosnan grandi.
Pero e realidad ta cu e poder pa cambia BO bida, ta di bo so. Tur loke ta rond, t'ey pa asisti y inspira bo cu tur su bon y tur su malo. E poder ta cuminsa ora bo pensa cla, kico ta loke ABO kier! Los di tur otro hende y cos rond di bo…
Hende semper tin un opinion, no necesariamente esaki mester ta berdad. Hende ta traha nan opinion basa riba con NAN ta mira e mundo. Pesey tin un dicho hopi sabi cu ta bisa 'Actua den silencio, te ora bo projecto concretisa. Laga silencio ta bo aliado y accion ta bo resultado'.
Laga bay miedo, e ta un masha mal consehero!
Exito!
Un mensaje di Comprondiendo Bida