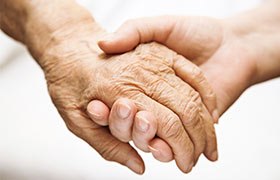 Nos tur tin un famia, conoci of bisinja cu ta birando grandi y no tin niun hende pa cuida nan. Na anja 1988 mi a bay un conferencia di un luna na Suecia y di e tempo aki nan a usa e siguiente modelo. Ta traha a base di e barionan. Ta duna training na personanan interesa pa cuida e grandinan, mescos cu bo lo trata bo famia cu bo ta stima.
Nan mester ta dedica y cu amor pa e trabou cu nan ta hasi. E ciudadonan di e grandinan ta prepara pa atende cu e situacionnan hopi sensitivo cu ta bin cu e proceso di bira grandi. Bira grandi por ta un periodo di gracia, yena cu alegria. Bira grandi por bin tin ora cu hopi soledad, dolor, berguensa y duda. Incontinencia, perdida di memoria, demencia, cuido den e ultimo fase di bida (cuido paliativo), cuido di herida y uso di medicamento.
Ta posibel cu e partidonan politico por paga atencion na un structura asina? Nos famianan a cambia. Por ta e yiu of familiarnan ta biba leu di otro of den otro pais. Por ta cu e famianan mes ta den problema financiero y no tin pa yuda. Pero tin hopi structura cu por pensa unda cada gremio y personanan involvi ta duna un contribucion pa hasi e cuido aki asesibel y pagabel.
Finalmente ta e grandinan aki a cuida nan yiunan y a traha pa nos por tin un bida y un pais awe.
Ingrid Werleman