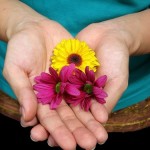 Re- programa bo mes cu e pensamentonan aki:"Mi ta stima mi mes, mi ta acepta mi mes manera mi ta, mi ta aproba mi mes"… "Mi ta sano y perfecto manera mi a ser crea, mi tin e curpa ideal", "Mi ta e jiu stima di un universo abundante: nada ta falta mi".
"La primera lección que he recogido del libro. Aprender a descubrir las mentiras de tu ego y desbaratarlas en base a 6 frases:
1. No SOY lo que tengo. Mis posesiones no me defienen como persona.
2. No SOY lo que hago. Lo que consigo no me define como persona.
3. No SOY lo que los demas piensan de mi. Mi reputación no me define.
4. No ESTOY separado de los demás. No es mi cuerpo lo que me define como ser único.
5. No ESTOY separado de todo lo que me falta en la vida. Las cosas están allí, porque el universo es abundante, solo tengo que mirar bien y aprovecharlo.
6. No ESTOY separado de Dios. Mi alma es parte de Dios, y como tal, inmortal e infinita."
Diasabra, januari 14-21-28… Workshop ' 2012 y bo proposito di bida', combina cu Wellness cu puro naturalesa. Basa riba e buki 'The Power of Intention di dr. Wayne Dyer. E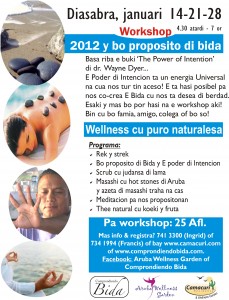 Poder di Intencion ta un energia Universal na cua nos tur tin aceso! E ta hasi posibel pa nos co-crea E Bida cu nos ta desea di berdad.
Esaki y mas bo por hasi na e workshop aki! Bin cu bo famia, amigo, colega of bo so.
Pa workshop: 25 Afl.
Mas info & registra? Jama 741 3300 (Ingrid) of 734 1994 (Francis)
bo por bishita www.camacuri.com of www.comprondiendobida.com
Riba Facebook bo por bishita e paginanan: Comprondiendo Bida of Aruba Wellness Garden