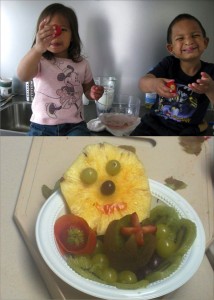 Biba saludabel awendia ta algo hopi importante. Si bo wak rond di bo lo bo ripara cuanto sobrepeso tin den nos comunidad. Pesey nos mester para un rato y pensa dicon?. Un parti di e contesta ta hopi simpel: mal alimentacion. Hopi simpel berdad pero loke tin tras di e significacion no.
Mal alimentacion ta algo malo pa e salud di un hende. Mal alimentacion tin diferente significacion manera: come foi ora, come "fast food", keda sin come, no come berdura of fruta etc. Tin hende ta come demasiado hopi y mal combina. Un bon alimentacion ta hopi importante pa bo y bo famia. Mal alimentacion ta trece sobrepeso tambe. Y corda cu ta un curpa so bo tin, pesey cuid'e… sin bo curpa, bo espiritu tambe ta muri. Ora bo kier come junk food atrobe, pensa di nobo, un biaha mas.
Come malo por resulta den hopi malesa, pasobra bo curpa no ta haja e nutriente y vitaminanan necesario pa bo curpa mantene su mes saludable. Riba e tema aki, mas den un proximo articulo. Awor nos ta ofrece bo un receta di smoothie. Un di e cosnan hopi facil pa traha, pero asina dushi y bon pa bo salud. Purb'e… y gust'e!!!
Receta saludabel cu bo por traha pa bo yiu na cas
Smoothie di Strawberry y Vanilia
1 cup di vanilla yoghurt
2 cups di 1%  (soy) milk
1 cup di strawberry fresco of gefreeze
1 cup blokki ijs
Pone tur e ingredientenan den un blender y mesclanan tur te ora e bira un "smoothie".
No necesariamente mester tene bo mes na e midinan aki. Bo por varia tambe cu e ingredientenan, na bo smaak… enjoy….