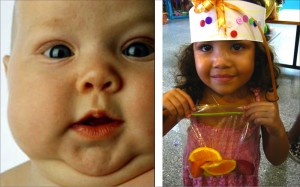 Estudionan hasi dor di e instituto di investigacion hulandes TNO na Leiden y VU Medisch Centrum na Amsterdam bou 80.000 mucha entre 4 y 15 anja ta mustra cu obesidad bou mucha ta birando preocupante. Muchanan ta birando mas gordo y na un edad mas jong. Durante anjanan e cantidad di muchanan obeso a bira dos biaha mas tanto. Bou cierto edad te hasta 3 biaha mas tanto.
E investigacion a compara e datonan di diferente anja. E studio ta mustra cu muchanan ta bira mas gordo na un edad mas jong. Por ehempel cu hopi mucha muhe ja ta obeso na e edad di 8 anja.
Na Aruba tambe nos ta wak hopi sobrepeso bou mucha. Por puntra si esaki ta culpa di e muchanan of di mayor of di comunidad. Hopi mayor ta traha hopi ora y no ta resta suficiente tempo mas pa cushina pa nan yuinan. E mayornan ta cumpra cuminda afo "fast food", locual ta mas facil pa nan tambe. Loke ta ripara na scolnan ta cu mayornan ta duna nan yui plaka pa cumpra pastechi y refresco enbez di traha un pan of duna nan fruta pa hiba skol. E ta costa tempo berdad pa purba cushina tur dia pa bo yui y mas fastioso ainda pa e ta cuminda saludabel. Pero pa biba saludabel bo mester come saludabel tambe. Un otro cos cu abo como mayor por hasi ta, hinca bo yui den un sport. Esaki lo ta hopi bon tambe pa e salud di e mucha y pa e mantene un amor propio halto.
Ta bon pa mayornan percura mainta pa un bon desayuno (p.e. papa, batido di fruta, pan integral). Pa hiba skol bo por traha pan y dun'e  fruta. Corda cu e salud di e mucha mester ta na prome lugar. Purba cushina cuminda saludabel pa e mucha. Zorg pa tin cuminda na cas cu hopi berdura. Atardi bo por  traha un batido di fruta pa e mucha.  Y anochi prome e bai drumi dune algo light (yoghurt).
Corda pensa pa futuro… gordo awe…gordo majan… saludabel awe… saludabel majan… abo como major tin hopi di hasi… kico bo jiu ta majan….