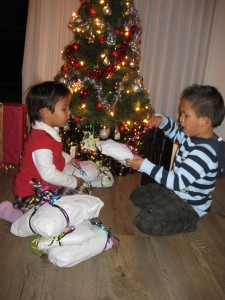 Pasco a pasa y hopi di nos a desea otro 'Bon Pasco'… Den misa y den propaganda nos por a tende 'Pas na mundo pa hendenan di bon boluntad'… Con hopi nos ta trese esakinan den practica? Palabranan generalmente ta bula bay den biento y toch esun cu ta scirbi of bisa nan tin un speransa cu un otro lo coy nan y incorpora nan den nan bida.
Pasobra…berdad hopi bes tin mes tanto cosnan cu ta uni y na mesun momento separa hopi di nos. E pregunta ta si nos por a pone e cosnan cu ta separa nos un banda y busca e pas y union riba dia di Pasco. Y mas ainda laga esaki ta nos guia pa e resto di nos dianan, no solamente riba un dia den anja. Pasco ta un ocashon unda sentimentonan ta hunga un rol grandi. Tin hopi hende cu ta pasa e dia aki nan so.
Hendenan cu ta depresivo, hendenan cu ta corda nan sernan keri cu ja no ta hunto cu nan. Tin jiunan di majornan divorcia cu no ta logra trese nan majornan hunto. Tin famianan cu no ta papia cu otro, tampoco riba 'Dia di Pasco'… Hopi hende cu no tin tempo, hopi trabou y niun hende cu ta compronde e otro su responsabilidad.
Tambe tin hopi hende cu a core di tienda pa tienda prome cu Pasco, buscando e shimis of bachi perfecto, e cuminda cu lo impresiona tur nan bishitantenan. Ah, ja, laga nos no lubida e regalo perfecto pa Pasco. Trendnan ta bisa nos cu nos mester cumpra semper e ultimo modelo…sin pensa si di berdad nos por pag'e. Cumpra pa Pasco, cuminsa paga te na februari. Ay Dios, nos a lubida cu na februari tin carnaval…dus no tin placa pa cuminsa paga.
Pas pa Pasco… pero, con satisfecho mi ta cu loke mi tin? Con agradecido mi ta? Con hopi mi kier inverti den mehora mi relacionnan, cuminsando cu un di e dianan mas bunita den anja?
Mi lo kier madura mi mente?… Madura NOS mente como pais… como ser humano… realisa kico mi kier den bida… realisa cu pas ta miho cu friccion… 'Pas na mundo pa tur hende di bon boluntad'… Ban corda esaki bon… Crese di berdad no ta e cos mas facil pa hasi, pero e ta e regalo mas grandi cu mi por a duna mi mes…Pasco a pasa, pero bida ta sigi… awe ta un bon dia pa cuminsa traha na un calidad mas halto cu mi kier logra den bida… abo tambe…
Majan mas riba e tema aki…Felis dia pa awe…