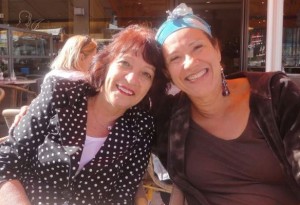 Ingrid Werleman y Patricia Martina a conoce otro via un pagina di un amigo riba Facebook. Na juli 2012 nan a topa otro personalemente na Hulanda pa prome biaha. Combersando riba bida tabata manera nan a topa parti di nan storia den e bida di otro. Y akinan a lanta e deseo pa hasi algo hunto cu lo inspira nos hendenan na Aruba. Asina a nace e actividad cu lo tuma lugar den e weekend aki cu a haja e nomber 'Un rato pa Bida'. 'Un rato pa Bida' ta un workshop cu tin como meta pa hiba cada participante un rato paden di su mes. Pa repasa e anja cu a pasa y traha metanan nobo pa e anja cu ta na caminda, esta 2013.
Ingrid y Patricia lo comparti nan conocemento y sabiduria cu e participantenan. Pasobra tur di nos por cambia nos bida, sabiendo cu nos ta co-creador di nos existencia. Nan ta bisa: 'E workshopnan ta basa riba e sentimento di gratitud, harmonia y alegria. E workshop ta duna bo e posibilidad di conecta cu bo poder interior, conecta cu e mundo rond di bo, dor di comprende na un punto mas profundo di kon bo ta haci kiko bo ta haci y kon cambia pa bo mes bienestar. Ora e hendenan bai cas nan ta sinti di berdad kiko kier men: dance life, do the shadayo & walk in gratitude. E workshop ta basa riba baile, d-stress, meditacion, awareness, wellness, alegria y laga los loke nos kier drenta 2013 cu n'e.  Ta importante pa nos realisa cu nos a bin mundo pa conoce nos mes, pa goza, pa sa kiko ta amor y pa crese den nos potencial. Nos no ta aki pa keda molestia, pa laga bida pasa nos voorbij. Nos t'ey pa biba y goza cada momento maximo y comparti esaki den gratitude cu e mundo rond di nos. 'Un rato pa Bida' ta bira un workshop yena cu bienestar, wellness y wellbeing y esey lo nan sinti den tur nan celnan!!!'.
Lo tin un mini workshop riba diabierna,  December  7 di  8 -9 anochi. Y dos workshop 'UN RATO PA BIDA' cu lo ta riba diasabra, December  8, entre 10.00-1 or merdia y un otro di 3 or merdia – 6 or atardi. Nan ta tuma lugar na Cas Deliza, situa net pazuid di RCA-stadion, Kamerling Onnestraat 50. Pa mas informacion por wak e pagina di Comprondiendo Bida riba Facebook of jama 741 3300.