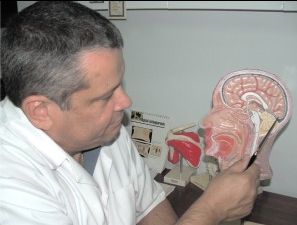 Tempo ta pasa…con hopi a cambia den bo bida? Prome parti di un entrevista na 2010 cu Dr. Jaime Falconi, neurologo y psichiatra. Tanten dr. Falconi ta felismente penshona y ta duna su cooperacion riba peticion.
Dr. Jaime Falconi, neurologo y psichiatra Arubiano tin e tema aki como un punto di atencion grandi. E no ta solamente un problema serca hende grandi, pero pa hopi tempo caba e ta un fenomeno cu nos ta wak tambe serca hobennan y te hasta serca muchanan hopi chikito.
Di con?
• Pasobra nos custumbernan di biba a cambia, consecuentemente tambe nos ritmo di drumi.
Antes nos tabatin 2 of 3 canal di television. Awendia nos tin cable y dish cu un cantidad grandi di canal, 24 ora pa dia. Nos tin internet, ADSL 24 ora pa dia. Y….nos tin menos control di majornan kico nan yiunan ta hasi, ora cu lo mihor pa nan ta pa nan ta drumi. Mayornan ta traha warda, nan tin nan propio preocupacion y tempo a bira moderno. Muchanan tin hopi mas libertad cu antes, talves demasiado pa nan propio bienestar y felicidad.
• E constelacion di nos famianan a cambia. Nos tin hopi mas famia di un solo mayor. Esaki ta nifica mas obligacion riba lomba di un solo mayor. Pues tambe mas preocupacion. Mamanan cu ta lanta nan so cu nan yiu no ta un tarea facil, placa hopi bes no ta yega, yiunan ta mas rebelde. Y e mama na final di dia y prome cu e pega soño ta ocupa su mes cu e problemanan cu e mester soluciona mayan. E no tin hopi sosiego berdadero. Con bon e por drumi realmente e ora? Y bo por culp'e si e ta irita pa un periodo largo? Un situacion cu hopi biaha ta bira algo cronico, sin cu e mes ta realisa… E ta subi cama 12 or anochi, ta pega soño 1 pa 2 or madruga…Cuanto ora di soño un persona asina ta haya pa dia? Probablemente pa 5 of 6 or ya e mester ta ariba su pia pa prepara muchanan pa bay scol…
• E control social den nos comunidad a cambia. Nos 'privacy' ta sagrado, nos murayanan a bira hopi halto y nos no ta mete cu bida di otro. Di otro banda nos no ta preocupa cu otro mas tampoco… Ni nos ta duna otro un man asina hopi mas… Ni nos kier scucha conseho mas…nos sa cu tin hopi cos cu no ta klop den nos bida, pero nos ta prefera di wanta e berguensa y kibra nos cabes, keda sin drumi, cu busca yudansa…
• Consecuentemente nos ta cay den un circulo vicioso, cu nos curpa no ta haya e sosiego necesario…nos no ta drumi bon, nos no ta drumi suficiente y nos no ta funciona bon…pasobra nos curpa y mente no ta haya e chens pa recupera su mes… Nos mester di pildo pa drumi?
• Nos ta biba den un mundo yen di desordo. Nos kier hasi hopi cos, sali bay hopi caminda, nos kier cumpra hopi cos, nos yiunan kier hopi cos. Nos kier un television riba cada camber? Talves nos por cuminsa realisa cu tin un otro manera pa anda cu bida?
• Nos forma y orario di come a cambia. Nos ta come mucho laat, cu cuminda mucho vet. Si bo ta bay drumi cu un stoma yen, con bon esaki por juda bo pa drumi sosega?
(E ta sigi majan…)