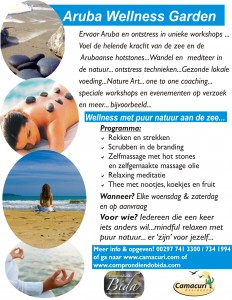 De workshop "Wellness met puur natuur" vindt plaats op het Fofoti strand net voorbij het Wilhelmina Park. Het evenement is een project van Aruba Wellness Garden, Comprondiendo Bida en Camacuri. Dit evenement is een uniek concept op Aruba. Het combineert de helende en relaxerende krachten van onze prachtige Arubaanse natuur. De deelnemers komen met de intentie om balans en harmonie te creeren tussen hun lichaam, geest en mentale welzijn. En dat is wat ze absoluut krijgen. Het fantastische aan de workshop is dat er tussen deelnemers, waarvan de meesten elkaar meestal niet of nauwelijks kennen, een prachtig gevoel van saamhorigheid en vriendschap ontstaat.
De intentie van de organisatoren Ingrid Werleman en Francis Quandt –Bulters is om een gevoel van saamhorigheid, dankbaarheid, plezier, relaxatie, eenheid, vriendschap, respect en liefde en trots voor de natuur en de bewoners van Aruba te creeren. Het prachtige is dat de deelnemers meestal van verschillende nationaliteiten en achtergronden zijn en zich weten te verenigen als een familie om met elkaar deze doelen te bereiken. Zo is duidelijk dat er behoefte is aan het type workshop als deze, die iets totaal anders te bieden heeft dan de gebruikelijk workshops. Op deze manier kunnen we de krachten bundelen om samen een duurzaam en verenigde wereld te ontwikkelen.
Het evenement is luchtig, ontspannen en toch vol betekenis. Er ontstaat flow en eenheid en iedereen accepteert elkaar op een hele mooie manier.
Het programma bestaat uit een onderdeel rekken en strekken, scrubben met behulp van zand van het strand en zelfmassage met hotstones en zelfgemaakte massageolie. Deelnemers gaan naar huis met een huid als zijde. Het evenement wordt afgesloten met een meditatie en thee met fruit en nootjes.
Om nog meer mensen de gelegenheid te geven deel te nemen aan deze fantastische do-workshop "Wellness met puur natuur" wordt bij voldoende deelname elke woensdag en zaterdag herhaald.
De groepen worden klein gehouden om zo de deelnemers voldoende aandacht te schenken.
De workshop is open voor mensen van alle leeftijden en voor mannen en vrouwen, samen of alleen, met familie en/of vrienden.
Voor informatie en registreren, tel.: 00297 741 3300 (Ingrid) of 00297 7341994 (Francis) of ga naar de website www.camacuri.com – www.comprondiendobida.com . U kunt ons ook op Facebook vinden. Bezoek de pagina's Comprondiendo Bida of Aruba Wellness Garden.
Wij verwelkomen u met een warm hart!