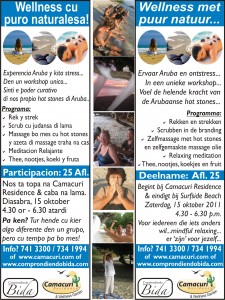 Tabatin asina hopi bunita comentario riba e workshop cu e organisadornan Ingrid Werleman y Francis Bulters a dicidi di organisa un workshop mas. Di e forma aki mas tanto hende por probecha di su efecto pa asina haja un dushi experencia con fantastico bida por ta. Tin ora ta juist mei mei di tur turbulencia y drukte, ta bon pa nos traha tempo pa nos mes. Asina tabatin varios participante cu a bisa cu nan tabata hopi druk cu otro cos, pero a traha tempo toch pa bin y a keda hopi contento cu e decishon aki. Algun comentario di Facebook: Lilian Leest: 'It was fantastic, Ingrid..thanks again!!will keep pending for the next!!' Lydia Paesch a bisa 'Mi ta recomenda tur cu por tin e oportunidad pa bai e workshop aki e ta algo den un palabra "Fantastico"'. Johan Koop a bisa: 'Het lijkt wel vakantie, zo relaxed'. Faritah Luidens a.k.a. Tica Bashabou a manda un sms cu despues di 3 dia ainda su cutis tabata suavecito di e crema pa masseer traha den cushina di Francis y Ingrid. Un crema puramente natural cu por usa pa curpa y cabey.

Pero podise mas cu tur cos nan a gusta e ambiente relaja, e union cu tabata existi entre e hendenan cu a topa otro pa prome biaha y e relajacion completo di por ta bezig cu bo mes un curpa, hasi contacto cu ne, scrub e den lama cu santo blanco, kita e celnan bieuw. Pero tambe, sinti bo un mucha atrobe, liber di tur otro cos di mundo. E piedranan cayente tabata fantastico y relajante. Y tur piki na Aruba mes.
Nos ta invita abo cu a bin un biaha caba, y abo cu tin gana di un momento diferente, abo cu tin un grupo, pa join nos den un aventura cu ta trese bo mas cerca di bo mes…
Esaki lo ta diasabra, oktober 15 di 4.30 or pa 6.30 atardi. E ta un bunita oportunidad pa bin den famia of amistad y hasi un actividad cu ta transforma bo bida pa uno hopi mas bunita y yen di energia bunita. E workshop aki tambe lo ta pa un prijs special di solamente 25 florin pa nos hendenan local.
Mas info & registra? Tel. 741 3300 (Ingrid) Tel. 734 1994 (Francis) of bay na e websitenan www.camacuri.com of www.comprondiendobida.com of Comprondiendo Bida riba Facebook.