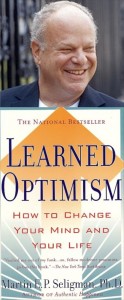 'No keda pega den bo dolornan,' esaki parse di ta e mensaje pa biba mas felis. Esaki bo por logra cu psicologia positivo. E fundador di psicologia positivo ta Martin Seligman, un psicologo renombra di New York y tabata entre otro president di American Psychology Association. Den su opinion lo beneficia e cliente si focus riba e  parti fuerte y e birtudnan di e persona y no solamente riba su malesa y debilidadnan. Su concepto a motiva hopi Universidad pa studia  kico realmente ta juda hende pa sinti nan mes satisfecho, motiva y felis di berdad.
Esaki a involvi topiconan manera felicidad, optimismo, caracter y emocionnan positivo.  Optimismo a resulta di por hunga un rol hopi importante contra depresion. Su meta cu e concepto aki ta pa integra practica y ciencia den otro. Un di su bukinan mas conoci ta 'Learned Optimism'.
Contrario na psicologia tradicional cu ta focus riba tratamentonan cu tin como meta pa drecha e danjo causa dor di trauma, depresion of burn out.
Psicologia positivo ta prefera cu psicologonan y nan pacientnan concentra nan mes riba asuntonan positivo. Esaki te hasta por mehora e salud mental di un pais considerablemente.
Ruut Veenhoven ta 'profesor di felicidad' liga na Erasmus Universiteit, Rotterdam, Hulanda. E ta splica cu psicologia positivo ta concentra tambe riba hendenan cu no tin problema psicico, pero cu sigur kier y por bira mas felis of saludable.
Psicologia positivo no ta necesariamente contrario na psicologia tradicional. E ta juist adicional na dje. 'E ta un forma pa para mas positivo den bida'.
Psicologia positivo ta pidi bo pa wak e cosnan bon di bo pasado y gosa di e felicidad den presente y speransa pa futuro.
Bo pasado ta hunga un rol clave den e proceso di bira felis. Importante ta pa duna bo pasado un lugar den bo bida. 'Sa' cu e tey, pero admiti cu bo no por cambi'e. Acepta cu loke a pasa a pasa y sigi padilanti.
Esaki bo ta hasi dor di:
• No laga experencianan negativo di pasado determina bo presente y futuro.
• Cada biaha bisa danki pa e cosnan cu si tabata bon den bo pasado.
• Sinja pa pordona.
Psicologia positivo tin 3 meta:
1. Haja sa e puntonan fuerte y talentonan di un hende, banda di traha naturalmente na su puntonan debil.
2. Sigi concentra riba e cosnan bon den bo bida, na lugar di drecha e cosnan malo. Asina poco e malonan ta disparse, paso toch bo no ta duna nan atemcion.
3. Mehora bo talentonan. Esaki ta hasi cu bo bida ta bira mas balioso. Sigi traha na cura bo problemanan mental, pero no hasi esaki e meta den bo bida.
Majan nos ta profundisa mas riba e bunita concepto aki pa hasi bo bida mas felis, dor di engrandece bo felicidad e meta di bo bida.

Loading ...