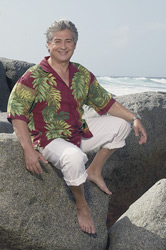 Escogencia robes di cuminda por tin tambe un efecto grandi riba un proceso asina natural cu ta 'bira grandi' of envejecimento. Dokternan di Medicina Tradicional Chinees ta duna nan patientnan cu ta birando grandi hopi atencion pa mira si nan ta bira grandi "Gracefully". 'Gracefully aging' ta nifica cu un persona ainda ta pose'e un mente inquisitivo y ta jen di flexiblidad y energia. Te hasta despues di un dia di trabou largo ami y mi partner, Phyllis ta encanta bay landa y baila salsa den anochi.
Cu escogencia robes di cuminda, hopi hende ta bira bieuw mucho lihe y esaki nos por identica cu un test medico. Pacientnan mas grandi ta keha di cansancio, stijf di curpa y draaimento di cabes. Ora mi wak nan man y pia nos ta mira perdida di musculo y pronto esaki lo bira perdida di weso.
Hendenan cu ta birando grandi cu ainda no a desaroya malesa degenerativo avansa, por recupera nan balansa metabolico rapido. Di e forma aki nan por reverse e proceso di envejecimento.
Get The Point! Estudionan recien a mustra cu diabetis y su consecuencianan a cambia di un malesa di nos welo y majornan pa un malesa di adultonan hoben y mucha. Danki Dios cu estudio ta mustra tambe cu estilo di bida por cambia, preveni y retrasa e progreso di diabetis tipo II. Un hende cu pre-diabetis, por reverse e progreso di e malesa cu 58% dor di cambia su cuminda, perde minimo 5%–7% di peso y inclui un minimo di 3 ora di actividad fisico pa siman. Nos ta mira e resultado clinico positivo aki casi tur dia den nos clinica. Pa testnan individual y educacion personal con pa come, jama nos.
CARLOS VIANA, Ph. D. is an Oriental Medical Doctor (O.M.D.) having studied in China; a US Board Cert. Clinical Nutritionist (C.C.N.), an Addiction Professional (C.Ad.), Chairperson of the Latin American Committee of the International Academy of Oral Medicine and Toxicology (IAOMT), a Rejuvenating Cell Therapist specializing in Age Management, has a weekly radio program, writes and lectures extensively. For information: VIANA HEALING CENTER, Kibaima 7 -TEL: 585-1270 Web Site: www.vianaheal.com