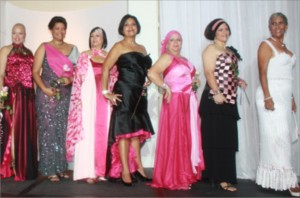 E prome Pink Runway Aruba (oktober 2010) a nifica kibra cu hopi taboe rond di e malesa di cancer. E evento aki a mustra cu ya hopi hende muhe no ta mira cancer como e fin di nan ser femenino y bellesa. Nan a lusi riba pasarela y a capta curason di tur presente. E bon noticia ta cu e apojo masal rond di mundo a juda hopi hende muhe cu cancer haja nan balor propio bek, tambe na Aruba.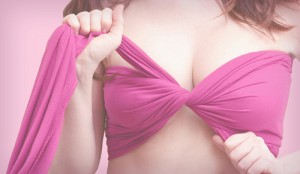 Ta berdad cu e miedo pa sinti bo mes sexy y bunita por ta un problema pa un hende muhe te hasta despues di hopi anja cu el a sobrebibi cancer. Ta berdad cu chemotherapia y radiacion por laga bo hopi cansa y sin gana den nada. Unico cos cu bo kier ta drumi, drumi y drumi, pasobra bo curpa no ta duna y bo mester recupera. Remedi y efectonan emocional dor di e malesa por cuasa depresion. Operacion, cabey cu ta cay, gana di saca ta cosnan cu no ta nada positivo pa e balor propio di un hende. Al contrario un hende muhe por no sinti su mes sexy despues di e operacion. Y esaki no ta nada stranjo si tene cuenta cu tur loke un pacient di cancer di pecho mester pasa aden.
Pesey ta importante pa e hende muhe pone como meta pa acepta su curpa y e cambionan na dje. Atrobe mescos cu den hopi cos, papia ta juda. Papia cu otro hende cu a pasa den mesun situacion. Bay gruponan di sosten na Aruba of riba internet. Papia cu bo famia, papia cu bo pareha. E proceso aki por dura cortico of largo. Esaki ta depende di cada persona con nan ta recupera tanto fisico como emocionalmente.
Algun conseho ta:
• Bisti bo mes bunita manera bo tabata custumbra. E projecto Pink Runway Aruba a prueba cu tin hopi costurera/o cu talento pa disenja panja special pa hende muhe cu a perde pecho.
• Bisti un peluca of usa un bunita combinacion di lenso.
• Usa vitamina cu ta juda bo crea resistencia.
• Usa productonan di cuido personal cu ta safe pa bo situacion medico
• Hasi deporte y movecion adecuado pa bo situacion cu ta pone bo sinti bo mes fit y jen di energia.
• Hasi cosnan creativo cu ta inspira bo.
• Busca informacion riba internet di hendenan cu a pasa den mesun experencia cu bo.
• Mas cu tur 'mira bo preciosidad como ser humano… como muhe.' Mira bo balor den cada rol cu bo tabatin prome cu bo a haja cancer. Por ta den bo famia, na trabou, den bo grupo di amistad y circulo social.Hasi e contactonan aki di nobo. Pensa cu mes dificil cu por ta pa abo papia riba bo situacion, e por ta pa otronan.  Tuma bo poder personal den bo man bek! Dicidi abo e rumbo cu bo kier mira den bo bida!
Algun adres util:
• Gruponan di sosten na Aruba, e.o Koningin Wilhelmina Fonds y Mary Joan Foundation.
• Peluca: D'Yvonne Beauty Supply, t: 583-7156
• Projecto di lenso y cuido personal: Indira Skincare, t: 584 6263
• Productonan di cuido personal: Beauty with Style: t: 582 3097
• Vitamina: Vemma / Vital Choices Int'l: t: 583  8588
• Websites: www.breastcanceralliance.org, www.borstkanker.net, www.nationaalkompas.nl/…/kanker/borstkanker, www.borstkanker.nl

Loading ...