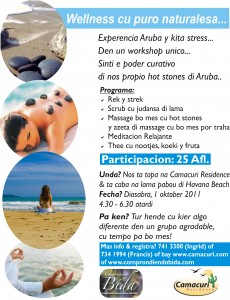 Nos naturalesa ta brinda nos hopi forsa curativo. Hopi biaha nos no ta conciente di esaki. Esaki ta e rason pa trese un workshop cu e tema 'Wellness cu puro naturalesa' pa abo cu kier un experencia diferente!
E workshop ta un iniciativa di Comprondiendo Bida y Camacuri Residence cu ta bay introduci tambe un programa di wellness como parti di su servicionan. A scoge pa cuminsa oktober 1, den e luna di prevencion di cancer y brinda e workshop pa un prijs special di solamente 25 florin pa nos hendenan local.
Di e forma aki kier duna e oportunidad pa tur hende sinja algo balioso pa nan bida na un prijs abou. E ta un oportunidad pa trese hende hunto na un forma ameno y cu un concepto diferente.
Den e actividad aki e participantenan por pone nan preocupacion di tur dia un banda y traha tempo pa nan mes.

Awendia hopi hende tin mesun issues, hopi trabou y bida druk, dus ta bon pa nan para keto un rato y relaja, malcria bo mes, hasi bo cabes bashi y ta bezig cu bo curpa.
Ta bon pa nos realisa cu nos curpa ta e vehiculo pa tin un bida saludabel. Pesey ta bon pa dun'e atencion cu e merece.
E workshop ta pa hende di tur edad, pa hende muhe y homber. Nos ta invita bo pa traha tempo pa bo curpa na un forma preventivo y sinti bo mes bon cu bo curpa. Sinja sinti, kico bo ta sinti eigenlijk ora bo ta duna atencion na bo curpa? Biba cu bo curpa den e momento, cu atencion dirigi (mindfulness). Cada dia nos ta ripara cu tin mas hopi caso di cancer. Nos ta puntra nos mes pakico y kico esaki tin di hasi cu nos forma di biba?
E workshop ta preventivo y ta laga nos comunica cu nos curpa. Nos por sinti si e ta saludabel y con pa manten'e saludabel, sin warda te ora nos tin sintoma. E ta un actividad carinjoso pa bo cartera, e ta sinja con pa relaja pa poco placa cu judansa di naturalesa, dor di usa loke naturalesa ta ofrece. Aruba tin asina hopi pa ofrece y ta bon pa nos ta conciente cu no ta tur cos mester costa hopi placa.
E programa ta ensera rek y strek, scrub cu judansa di lama, massage bo mes cu hot stones di Aruba y azeta di massage cu bo mes por traha, meditacion relajante y caba cu dushi thee cu nootjes, koeki y fruta.
Ki dia? Diasabra, 1 di oktober, di 4.30 atardi te 6.30. E ta cuminsa y caba na Camacuri Residence, cu un parti na lama.
Mas info & registra? Tel. 741 3300 (Ingrid) Tel. 734 1994 (Francis) of bay na e website di Camacuri of Comprondiendo Bida of Comprondiendo Bida riba Facebook.