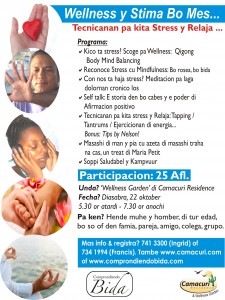 Weekend pasa a tuma lugar na Fofoti Beach e di tres exitoso workshop 'Wellness cu Puro Naturalesa'di camacuri wellness y comprondiendobida.com. Ingrid Werleman y Francis Bulters ta expresa: 'E ta un satisfaccion hopi grandi di a start cu e workshopnan aki, despues di hopi anja cu a pensa riba nan. Con pa transmiti pa otro hende loke a juda nos den nos crecemento personal. Un trajecto cu a tuma basta anja y esfuerso, pero cu ta hiba bo cada biaha mas cerca di bo mes, contemplando e mundo di pafo, mescos cu e mundo di paden'.
E diasabra aki lo tin un workshop nobo cu ta 'Wellness y Stima Bo Mes!' cu tecnicanan pa kita stress y relaja. Lo sinja tecnicanan con pa reconoce stress, usando mindfulness of atencion dirigi. Lo traha cu nos rosea cu ta nos fuente di bida.

Lo haja sa mas di kico ta causa stress, pero tambe con pa kit'e cu ejercicio simpel cu ta juda balansa e curpa y e mente. Esaki ta ejercicio cu tur hende por hasi.
Importante ta cu e participante ta hasi diferente tecnica dor di cua e por scoge pa su bienestar, su wellness y laga bay e stress. Ta bon pa sa con nos ta cumula stress y tambe pa sa un meditacion pa juda e curpa laga dolornan y stress bieuw los.
E workshop ta sigi cu e tema 'Self talk, cu ta e storia cu bo ta conta bo mes den bo cabes y kico esaki ta hasi cu bo curpa y mente. Pa elimina e tendencia negativo aki hunto nos lo sinja usa e poder di afirmacion positivo. Ta sigi cu ejercicio nan pa juda bo relaja. Esakinan ta entre otro tapping, tantrums y ejercicionan di energia, sigi pa un seccion nobo cu ta 'Bonus-Tips by Nelson!'. Loke ta ensera un sorpresa cu Nelson, e facilitador nobo so sa.
Finalmente nos ta sigi pa un un treat di Maria Petit, cu ta sinja e participantenan hasi un dushi masashi di man y pia cu azeta di masashi traha na cas. Ora tur hende ta suficiente relaja y liber di stress nos ta bay saborea un sabroso soppi saludabel rond di kampvuur den e 'Wellness Garden' di Camacuri Residence. Tur esaki ta tuma lugar diasabra, 22 oktober, di 5.30 or atardi te 7.30 or anochi. Y pa ken e workshop aki ta? Pa tur hende muhe y homber, di tur edad, nan so of den famia, cu pareja, amigo/a, colega, grupo. Participacion den oktober ta 25 Afl., prijs special dedica na luna di salud. Pa mas info & registra por jama 741 3300 (Ingrid) of 734 1994 (Francis). Tambe por bishita www.camacuri.com, www.comprondiendobida.com of wak e pagina riba facebook.