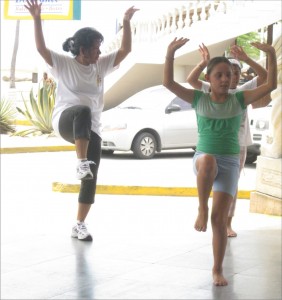 Pa bo biba saludabel bo mester come saludabel, pero tambe bo mester hasi movecion y ehercicio. Esey ta un algo importante pa bo salud. Tin ehercicionan cu ta bon pa hasi paso e ta yuda bo salud. Un ehercicio cu ta bon pa bo hasi ta bula cabuya. Un otro ehercicio cu bo por hasi ta cana tur atardi 45 min, 4 biaha pa siman lo ta hopi bon. Si bo ta un hende cu no gusta cana of bula cabuya,bo por bai lama tambe. Lama ta hopi bon  paso e ta juda bo circulacion di sanger y e ta drecha e capacidad di bo curason y bo pulmon. Un otro cos bon di bai lama ta e ta kima bo calorianan.
Awendia tin hopi actividad cu bo por hasi hunto cu bo yiunan. Bo por bay les di zumba cu ta gratis y wak si e ta algo cu bo gusta y despues tuma un serie di les hunto cu bo famia. Tin tambe scolnan di baile cu ta duna lesnan gratis.
Tin tambe lesnan di yoga gratis band'i lama. Tur esakinan ta dushi pa bo purba y relahante. Bo a gusta? Bay un curso hunto cu bo famia. Tai Chi ta excelente pa tur edad. Purb'e!
Tin bunita parke den diferente districto cu ta gratis, tin centronan di bario y veldnan di deporte den casi tur bario, tin caminatanan organisa dor di organisacionnan deportivo. Tin gymnan cu por ta un poco mas caro, pero por pidi pa un prijs pa famia. Tin asina hopi cos pa hasi. Un derecho di un mucha ta pa crese y tin un bida saludabel. Esaki hopi bes e no por hasi su so, si e no ta den un organisacion. Pero manera por a wak akiriba tin asina hopi cos cu majornan por hasi hunto cu nan famia. Y finalmente si no ta posibel pa sali y busca actividadnan deportivo pa  hasi… semper bo por cumpra un dvd di ehercicio y hasi sport den e comodidad di bo patio, veranda of sala… Dus cu otro palabra no tin excuus pa no hasi movecion y laga kilonan aumenta cerca e miembronan di famia. Den un tempo cu majornan ta traha duro y tin poco tempo pa hasi cos hunto. Busca cosnan leuk y sano… Ban move pa e salud di nos famia y nos pais!